Does your home look very old or it's like your home is coming from another century? so it's time to renovate your home with simple tips and guidelines whether you have an interior design company or you will do it by yourself.
According to your home status maybe you don't need to redesign or set it up, maybe it just needs a renovation with smart and small decoration items to change or transform your home to the latest trends to change your old home to a new one.
Interior design experts have noticed some common characteristics in different projects to modernize your old home with these 12 tips
1. Your Style
Choosing the modern style happens according to your personality and your preference, that style is characterized by creative, simple, and smart design.
Choosing contemporary design doesn't mean that it will prevent you to feel comfy or cozy in your home because many people choose it according to they just like the style but they can't feel comfortable in it, but a great interior design company has the ability your modern villa design looks like you and your personality in addition to keeping it organized and sophisticated in addition to the most important thing is to give you the feeling that you are in your home!
2. Your Villa Layout
To get the best layout you have to design a simple plan shape to start the designing process with a strong base.
Old home design can be characterized by disorganized and complicated layout, country modern houses are laying on symmetry to make sure there is a seamless integration of your house rooms.
3. Choose your Location
The first thing you have to care about is choosing your location very well because it will facilitate the modern villa design to get the best layout for your villa, many people think that finding your home location is not as important as choosing your villa design but your home location will affect your home interior and exterior design according to many factors.
4. The Floor
One of the main characteristics of traditional home design is the complicated floor and disorganization.
The floorplanning process is very important because we don't want to end it up with your car garage behind or next to your master bedroom.
We can conclude the Contemporary style in asymmetry, so be very careful when you are planning to achieve the logical and seamless integration of rooms.
Remove any old or traditional decoration or wall partitions to make the room larger, and redecorate or renovate your house floor to be the same as your home.
---
Read Also:
---
5. Connect your Indoor with your Outdoor
As you are designing your house layout, don't forget to connect between your indoor space and your outdoor space using glass for example, or any other transparent material.
Using this method will allow you and your family to see nature from the inside of your house by eliminating the wall, you can make the glass from floor to ceiling, for more luxury you can add planting beds and a large pool according to your exterior space to get the best and amazing view to inspire you or to get relaxed while you are sitting inside your home.
6. The Interior and Exterior Floor
According to the previous concept of "the connection between the interior and exterior," you can give the impression that the internal floor is extending to the outside, which can give you the feeling of a larger space and will make your home look bigger and more luxurious.
7. Using the Wood
One of the best pieces of advice that the interior design expert can give to help you in designing your modern villa is to use the wood and align it to seams on the ceiling to be a part of your house decoration. This amazing touch can attract attention to it, it also adds a touch of luxury and expensiveness.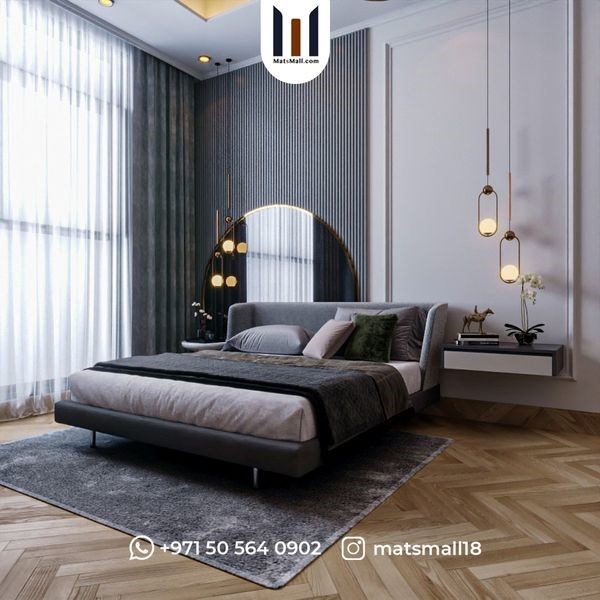 8. Transition Between the Walls and the Floor
Experts prefer to connect between the wall and the floor but they don't recommend using the traditional method to connect between both like using the molding, but they prefer using a new method called shadow base or flush base both are modest reveals using a single shadow to achieve the transition between walls and the floor.
9. Doors
Small details can change the decoration and can make it more luxurious, like the bottom of the door can brush the floor, both sides of the door meet the walls and the ceilings, so how can we make it look luxurious? The answer is by keeping it simple with a low amount of revealed shadow baselines.
10. Exterior Building Structure
the intentional building shape is the key and your guide to designing your modern home, it's one of the most efficient structures which decreases a degree of complexity by keeping it simple as much as you can with sharp lines.
Experts also advise you to design clerestory windows while you are setting up your home according to the great transformation in your room because it's a great solution that provides a natural view because it allows the natural light to come into your house.
If you open it there's no need to be worried about the pets coming in.
11. Storage Solutions
Modern homes are so clean, organized, and sophisticated, the main thing that helps contemporary house owners is to keep it tidy by building cabinet casework with simple detailed design and shelves, whether in your bedroom or under your house stairs.
Avoid traditional styles and colors, you can achieve it by keeping it simple to keep your house tidy and organized.
12. Natural Colors
Colors have an impact on your mood and can make a difference in your home decor, keep your house colors natural and elegant, like black and white as the main colors which enhance the contemporary style.
Choose the light shades colors like white and grey tones and avoid dark shades, paint your walls with basic neutral colors to get a magnificent background for adding accent colors like sky-blue for example.
In the end, we can summarize all the above with some main factors and basics things that define or characterize the modern style
Sharp & clean lines
Minimal decor
Neutral color palette
With an open floor plan, the connection between interior and exterior
A natural materials like wood and metal
Keeping it functional
No clutter or unorganized
For more tips, we advise you to read this article.