If you have a shady area and have had trouble growing flowers, then read on for information about flowers for shade. Learn the particulars of growing plants and flowers in the shade such as what partial shade really means, soil conditions, and how to prevent disease.
Guide to Flowers that Grow Best – Little Sun: Gardening in the Shade Tips & Advice
While many people think gardening in the shade is a difficult task, it is not once you learn about the different types of flowers that do best with little sun. Gardening in the shade can be accomplished once you know what exactly "partial shade" means.
Gardening In the Shade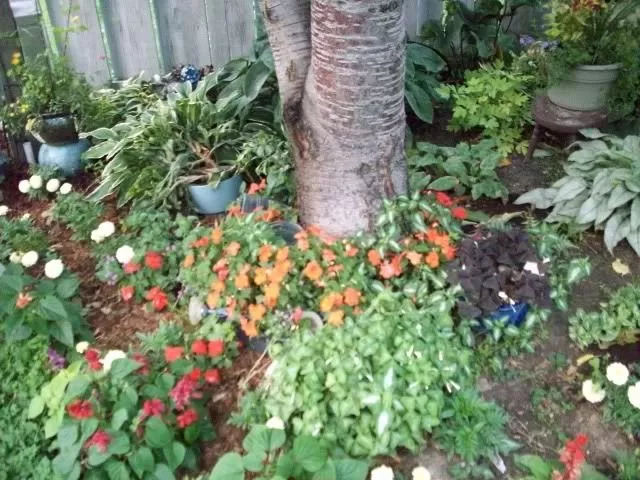 While gardening in the shade may seem like an impossibility, there are many flowers that will grow with little sun. Once you know the type of flowers that grow best with little sun, you will find that shade gardening can be just as satisfying as gardening in the full sun.
The term "little sun" can be subjective, depending on where your shady area is located. Full shade constitutes an area that is shaded for approximately 60% of the day. If it is under a large shade tree, however, a certain amount of sunlight will filter through the canopy of leaves giving the flowers enough sunlight to grow.
Pruning the lower limbs of large trees will also help to increase the sunlight available to flowers planted under such trees. Flowers can also get sunlight from being planted across from a light-colored wall that will reflect the sun's rays onto them.
It is also of great importance to practice cultural control methods to prevent disease when gardening in the shade. Plants in the shade, especially those under a tree, will often have to deal with inadequate air circulation, which can lead to fungal diseases.
Spacing plants farther apart than usual and watering with soaker hoses can help to prevent disease by keeping the foliage dry. Mixing in rich, organic matter will also help plants in shady areas to grow, as it releases much-needed nutrients to the plants as it breaks down.
How many hours a day is "partial shade"? Flowers that recommend part shade or "little sun", can do quite well with only two to three hours of bright or indirect sunlight a day, either in the morning or with dappled sunlight through the canopy of a tree. Examples of flowers in this category are impatiens, pansies, and begonias.
Impatiens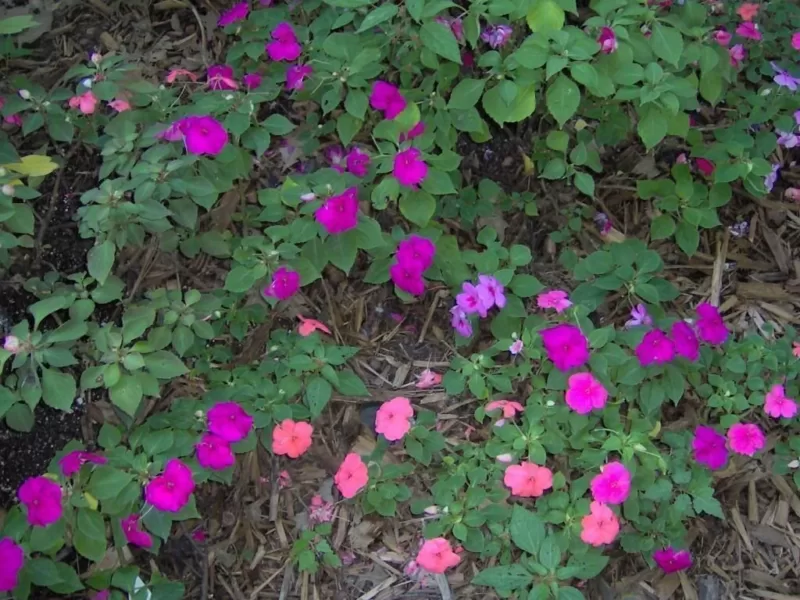 Impatiens are well known for their value as flowers that grow best with little sun. They come in a large variety of colors including pink, hot pink, hot orange, purple and white. They also come in a variegated leaf pattern.
Impatiens prefer moist, well-drained soil, and the common types do very well in full shade, with a minimum of sunlight. New Guinea impatiens, however, can tolerate morning sun and are suitable for edging plants.
Impatiens do very well during the cool season but may become tall and leggy with sparse leaves once the high temperatures of the summer arrive. This problem can be solved by pinching them back to within three inches of ground level.
This will encourage the plant's leaf buds to open up and produce more leaves, filling them out once again. Water them well during the summer, as it is best that they do not dry out.
Impatiens can occasionally become afflicted by aphids and spider mites. These pests can be controlled by an application of Sevin Dust or similar organic preparation for garden pests.
Pansies
Pansies and violas, or Johnny Jump Ups as they are commonly referred to, are cool season annuals that come in a variety of colors and patterns. Pansies can be solid-colored, or bi-colored with a darker center, often referred to as a "face".
Pansies have a large variety of colors to choose from including pink, dark blue, light blue, yellow, orange, lavender, and white as well as combinations of these colors. Johnny Jump Ups are a smaller version of the pansy, but only come in a solid color and are usually seen in purple or yellow.
One of the reasons that pansies have gained such popularity among gardeners is their ability to grow in either the sun or part shade. Pansies do well if they receive sun in the morning, with shade the rest of the day, so choose a site that meets these specifications carefully.
To grow Pansies and enjoy them the most, good soil preparation is of the utmost importance. Along with morning sunlight, choose a site that is well drained, and amend the soil with compost cow manure or peat moss to a depth of four to six inches. Pansies are relatively pest and disease free.
Pansies, however, are not just for flower beds. They also do well in window boxes, container gardens, or placed at the front door to add a spot of color.
---
---
Begonias
Begonias are well-loved not only because of their wide range of colors – red, yellow, pink, white, and salmon – but also because of their adaptability to light conditions. Begonias will perform well in shade, partial shade, or full sun as long as they are watered well and planted in rich organic soil. Clay soils can be amended with compost, cow manure, or other organic material.
Plant begonias in a sight where they will receive indirect light or bright light, such as under a tree where the light will shine through, at the edge of a shady area, or in a spot that receives morning sunlight. Begonias can also be used in hanging baskets, container gardens, or window boxes.
Begonias can succumb to aphids and other garden pests, just as most flowering plants but applications of Sevin Dust or a similar product will take off such nuisances. Powdery mildew can occasionally overcome the Begonia, as it thrives in moist, dark areas, however, a fungicide or baking soda spray will help to control the problem.
In Closing
Gardening in the shade does not have to be a boring process limited to low-color, foliage-only plants. This is but a short list of flowers that do best with little sun. Once you have started off with these, you will find many more at the local nursery that is pleasing to the eye and that will do wonderfully in the shade.
Practicing cultural control methods to prevent disease, choosing disease-resistant plants, and giving your shade plants optimum conditions will ensure a beautiful shade garden all year long.