Canvas prints bring life and beauty to any room, making the home feel cozy and inviting. Unfortunately, many of us want to incorporate this type of art into our spaces but worry about the cost.
We often think that our budget won't allow us to purchase prints of quality that will stand up over time. But don't despair! There are measures you can take to achieve canvas printing on a budget.
We have put together some tips and tricks that can help you save money while still creating beautiful works of art. Whether you are a novice or an experienced collector, you will find these ideas invaluable when it comes to getting the most bang for your buck.
Choosing a Right Canvas Print
Buying in Bulk
Researching Discounts and Deals
Understanding Canvas Printing Materials and Techniques
Use a High-Quality Photo
1. Choosing a Right Canvas Print
Choosing a canvas print can seem daunting! With so many sizes, materials, printing techniques, and options to pick from, it's no wonder why it can be difficult to know where to start. But, don't let that intimidate you, there are still plenty of ways for you to get the perfect print without breaking the bank.
First, consider the size. Canvas prints come in a variety of sizes, from small 4" by 6" prints to large, gallery-sized art pieces. Even though larger prints often require a larger budget, don't sacrifice quality in order to reduce costs. Instead, choose an optimal size that won't overstretch your budget.
Next, choose a material. Canvas printing materials are made with either cotton or polyester material, and cotton is typically the more economical option. Cotton canvases offer superior image quality and are more economical than their polyester counterparts, making them ideal for those on a budget.
It's also important to consider what type of printing technique you want to use. If you're looking for the highest quality print, then choose a UV printing technique, as this printing technology will provide you with the richest colors, sharpest details, and most vibrant images.
That said, any printing technique should be able to provide you with a vivid and beautiful print, as long as the image you're using is of good quality.
Choosing a canvas printer may feel overwhelming, but there are still plenty of ways for you to get a beautiful, high-quality print without breaking the bank. All you need to do is consider the size, material, and printing technique, and then you'll be on your way to enjoying the beauty of canvas prints at an affordable price!
2. Buying in Bulk
Buying canvas prints in bulk can be a smart way to save money when ordering online. Many companies offer discounts on bulk orders, so the more prints you order, the more you can save. Before placing a bulk order, consider the purpose of the prints and where they will be displayed.
If you're ordering for a business or organization, bulk orders can be a cost-effective way to decorate an office or showroom. Additionally, if you're planning to give canvas prints as gifts, bulk orders can be a great way to save money while still giving a thoughtful and personalized gift.
When placing a bulk order online, be sure to compare prices and quality from different companies. Look for companies that specialize in bulk orders and offer a variety of sizes, finishes, and framing options. Many companies also offer free shipping on bulk orders, which can provide additional savings.
It's also important to pay attention to the production and shipping times when ordering in bulk. Make sure the company can accommodate your timeline and that the prints will arrive in time for any scheduled events or gift-giving occasions. By buying in bulk, you can save money while still getting high-quality prints that are perfect for decorating your space or giving as gifts.
3. Researching Discounts and Deals
If you're looking to save money on canvas prints without sacrificing quality, researching discounts and deals is essential. There are countless ways to get access to discounts and special offers that can add up to a significant amount of savings. Perhaps the most obvious way to save is to shop online.
For starters, comparison shop on different websites to ensure you get the lowest price possible. Look for online stores that offer their own discounts or promotional codes that can help you save even more.
Another great way to discover discounts is to sign up for loyalty programs. Many online stores and physical stores offer loyalty programs to their customers. This can allow them to access exclusive deals, which may include discounts.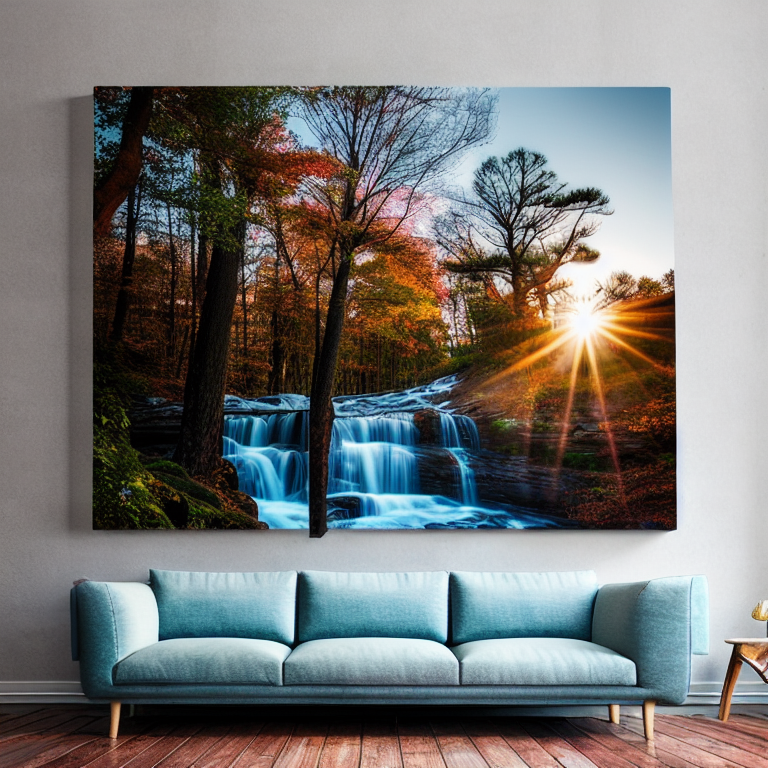 You might also try checking out specials from third-party retailers. Many companies will partner with other businesses to offer discounts on canvas printing, so be sure to do your research and pay attention to any special offers available. Additionally, this is a great way to score discounts on shipping and handling fees!
Finally, don't forget to take advantage of deals that are available during special events such as Black Friday, Cyber Monday, and other key sales periods. These markdowns can be significant, helping to reduce the cost of purchasing canvas prints.
Using discount codes and coupons can be a smart way to save money on canvas prints when ordering online. When you have found a canvas prints company that you want to order from, it's worth doing a quick online search for discount codes and coupons before placing your order. You may be surprised at how many options are available. Signing up for the company's email newsletter can also be a good way to receive exclusive discounts and coupon codes.
Before using a discount code or coupon, make sure to read the terms and conditions carefully. Some codes may only apply to specific products or have a minimum order value requirement.
Additionally, be sure to check the expiration date of the code or coupon to ensure that it's still valid. Using discount codes and coupons can provide significant savings on your canvas print order, so it's definitely worth taking the time to find and apply them.
4. Understanding Canvas Printing Materials and Techniques
When it comes to canvas printing on a budget, understanding the materials and techniques associated with print is key to ensuring you get the best quality for the price. Canvas prints involve printing a picture directly onto the canvas using digital printers.
Printing techniques have gone a long way from traditional techniques like painting or drawing images on canvas. In recent years these new techniques have revolutionized the printing process.
There are two primary techniques used when it comes to canvas printing: inkjet and dye sublimation. Inkjet printing is what most people are familiar with, and involves printing an image on paper and transferring it onto the canvas.
Dye sublimation is a more modern method, and it involves printing the image directly onto the printable media. This method typically produces more vibrant colors, finer details, and better-fading resistance than inkjet printing.
Both techniques have their pros and cons, and knowing the differences can help you decide which one is best for your budget. In general, inkjet prints tend to hold up better over long periods of time and can usually be printed at lower resolutions, while dye sublimation printers tend to produce more vibrant colors.
It's important to keep in mind that the materials used to produce the canvas prints will also affect the overall quality. Printing is usually done on thick or plastic-based canvas, which provides a glossy finish, or higher quality cotton or polyester canvas, which gives a softer, more matte finish.
No matter which material you use, you should make sure to use high-quality inks and coatings to ensure that your canvas prints will last for years to come.
5. Use a High-Quality Photo
Using a high-quality photo is essential when ordering a canvas print online. A low-quality or blurry photo can result in a print that looks grainy and distorted. Before submitting your photo for printing, make sure it meets the recommended resolution and file size requirements of the printing company.
This information can usually be found on the company's website or by contacting their customer service team. If you're unsure about the quality of your photo, consider using a photo editing software or app to enhance it before submitting it for printing.
Another factor to consider when using a high-quality photo for your print is the lighting. The lighting in your photo can greatly impact the final print quality. Be sure to use photos with good lighting and avoid photos that are too dark or have harsh shadows.
If necessary, you can adjust the brightness, contrast, and exposure levels of your photo using photo editing software to achieve the desired look. By using a high-quality photo with good lighting, you can ensure that your canvas looks sharp, vibrant, and true to life.
By following these five simple steps, you can complete your canvas print on a budget without sacrificing quality or beauty. It takes a bit of work, but the results are sure to be stunning. So, get shopping, and start creating the perfect canvas print on a budget! When it comes to canvas printing, there is no need to sacrifice quality to save money.
With the right preparation and research, it is possible to find an affordable yet high-quality canvas solution that won't break the budget. Finding the perfect canvas printing solution doesn't have to be complicated and overwhelming. With the right tips and tricks, anyone can find a budget-friendly way to showcase and preserve the beauty of canvas prints.