Cleaning chore takes up a lot of time. This is true especially if you have a big home with a lot of furniture. In the modern busy world, many of us feel short on time to do the essential cleaning chore.
We skip cleaning our home due to time constraints and thus make an unhealthy environment. But we don't have to spend a lot of time and effort in cleaning our home.
You can quickly clean your home in just 30 minutes, so you can spend your valuable time on other important work.
Let's see the steps in how you can easily clean your home in 30 minutes.
Initial Preparations
Before you start to clean, make sure that you have all the accessories with you. You should have a microfibre cloth, a good quality vacuum cleaner with all the attachments, and other cleaning equipment.
Having these accessories ready with you will make your cleaning job much easy and quick to complete. After having this equipment, you should organize your home into high and less-traffic areas.
High-traffic areas are the places that easily accumulate dust such as your kitchen, bathroom, and hall. Less-traffic areas are the other places and products like stairs, foyers, etc. If you could clean your high-traffic areas first, then you could easily clean other places.
---
Read Also:
---
Cleaning Kitchen – Within 10 Minutes
You can easily clean your kitchen within 10 minutes if you follow these steps.
First, clean all the tables and furniture present in your kitchen such as counters, stove, oven, fridge, dining table, ventilator, etc. You can use a paper towel or a wet wipe to clean it easily.
After cleaning the products and tables, you should clean the floor using a vacuum. Any wet or dry spills can be easily cleaned using a good wet and dry vacuum.
Now, it is time to clean the dirtiest part of your kitchen, the sink. Spray the sink with a good cleaning solution and start to wipe out all the dirt from it. You should also drain the pipe and clean it with a paper towel. After cleaning the sink, make sure the soap dispenser is cleaned too.
You have now cleaned the floor, appliances, and sink in your kitchen. Finally, you should take a look at your wall, switch, handle, and clean them if there are any spots or stains present. You can use a cleaning wipe or sponge to quickly remove any stains from your kitchen.
Cleaning Bathroom – Within 10 Minutes
The bathroom is a difficult place to clean, but with these steps, you can easily clean them.
Like with the kitchen, you should clean all the appliances and other products in your bathroom first. Use a cleaning spray and clean the sink, mirror, tub, and toilet present in your bathroom.
If there is a countertop present in your bathroom, clean it too. Cleaning all the furniture and appliances present in your bathroom is easy.
First, spray the appliances using a good cleaning solution and leave it for a few minutes. Then, wipe out the sprayed area using a paper towel or cloth. Pay special attention to nook and corners of your bathroom like the faucet, sink handles, etc.
Now, you should take a look at your toilet and bathtub. Clean the seat, base, and bowl of the toilet using disposable wipes. The same way, clean your bathtub too.
After cleaning the tub using wipes, take out the garbage from your bathroom. After cleaning the tub, you should clean the surface and wall of your bathroom.
You can use the same technique you've used in the kitchen to clean the surface and wall. Use a vacuum with different accessories to clean the floor, wall, and corners present in your bathroom.
Cleaning Hall – Within 5 Minutes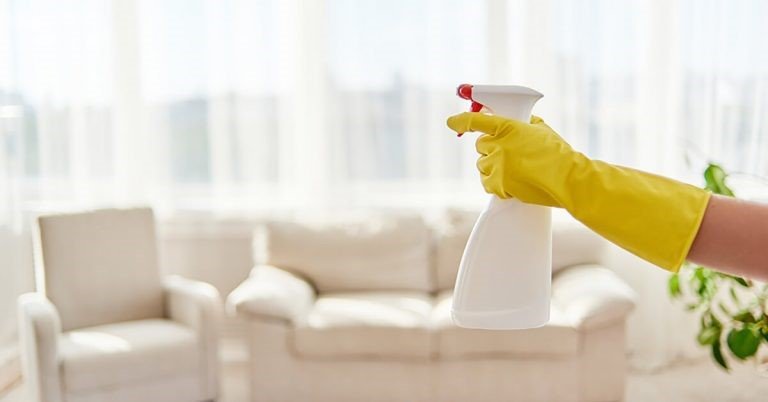 Cleaning the living area of your home is comparatively easy than cleaning your kitchen or bathroom, so let's take a look at how you can clean it.
Clean the tables, sofa, couch, lamp, tv, pictures, and other appliances present in your hall first. You can use a cloth or a portable vacuum to pick up the dust and dirt from it. If there are any pet hair or other dust present in your sofas and couch, vacuum it.
Then, use a vacuum cleaner to clean the floor, wall, and corners of the room thoroughly. Finally, take out the trash along with dirt from your vacuum.
You can follow the same method as the hall cleaning for cleaning your bedroom too. You can quickly clean your bedroom like the hall if you follow these steps.
Other Areas
You have now cleaned all the important areas of your home like the bathroom, kitchen, bedroom, and hall. Now it is time to concentrate on other areas like the foyer, steps, dining room, and other parts.
You can do this later after you have completed the high-traffic areas as these parts are used less and accumulate less dust. You can use a mop or a good vacuum to clean these areas easily as they don't have many appliances. Finally, throw out the dust from the vacuum.
Conclusion
As you can see, cleaning chore doesn't need to take up much of your time. If you organize your cleaning area and prepare the necessary accessories, you can easily clean your home in around 30 minutes.
This way of speed cleaning your home doesn't make it white-glove clean, but it will give your home basic cleanliness and organization. You can do this type of cleaning any day of the week if you can spare 30 minutes.
Hope you get to know information on cleaning your home efficiently and quickly.