Color is everywhere! It's a part of our daily lives, our natural environment, and the living spaces that we create for ourselves.
It is also one of the fundamental attributes of landscaping and gardening and a study that the best gardeners in the North have mastered.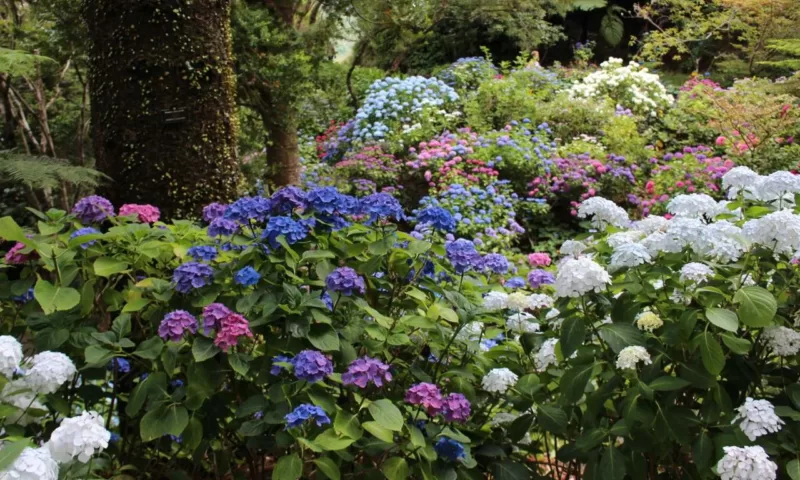 I want to give you some suggestions for a few of the most spectacular trees and shrubs available to bring a splash of color to your landscape.
This list is by no means inclusive, as there are hundreds of fine selections with color value, so allow me to try and tease your interest a little with these suggestions.
So without further ado, here is a list of some of my favorite trees and shrubs for bringing color into your northern landscape!
For Its White Flowers – Autumn Brilliance Serviceberry (Amelanchier x Grandiflora 'Autumn Brilliance', Zone 4)
To add a dainty, woodland touch to your urban landscape, I would strongly recommend this small tree or tall shrub. It begins its performance with large, delicate white flowers which smother the branches in early spring, well ahead of the leaves.
This is one of the very first of all plants to bloom, and the whole tree becomes clothed in a snowy white, resulting in a spectacular spring show.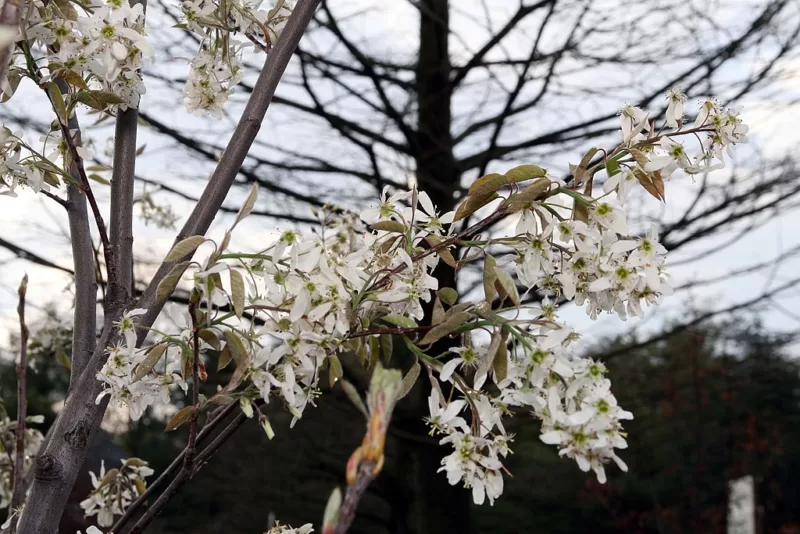 It has other color attributes as well, with pretty deep blue berries in June (which are quickly eaten by the birds) and solid rich red fall color.
It is available in both a single-stemmed tree form and as a multi-stemmed shrub; use the tree form in tighter spaces or for a more formal look, while the multi-stemmed form looks great as a solitary accent with lots of room to spread.
Because its primary attribute is white flowers in spring, this wonderful plant is best used against a darker background, especially a brick or dark stone house or a backdrop of dark evergreens.
It will perform miracles in a dull (but sunny) corner of the yard suffering from too little color, where its white blossoms will add vibrancy and light. And, the fall color is a bonus!
---
---
For Its Blue Foliage – Montgomery Blue Spruce (Picea Pungens 'Montgomery', Zone 2)
True blue is a tough color to find for landscape use, particularly in larger forms and with any endurance across the seasons. That's why the Montgomery spruce is such a great discovery for northern landscapes.
This is a compact and dense garden shrub that features very bright steely blue needles all year long. Montgomery spruce is a natural dwarf evergreen with a slower, restrained habit of growth, always maintaining a rigidly pyramidal shape.
It starts as a small garden shrub, and over 10-20 years will eventually grow to be about 10 feet tall.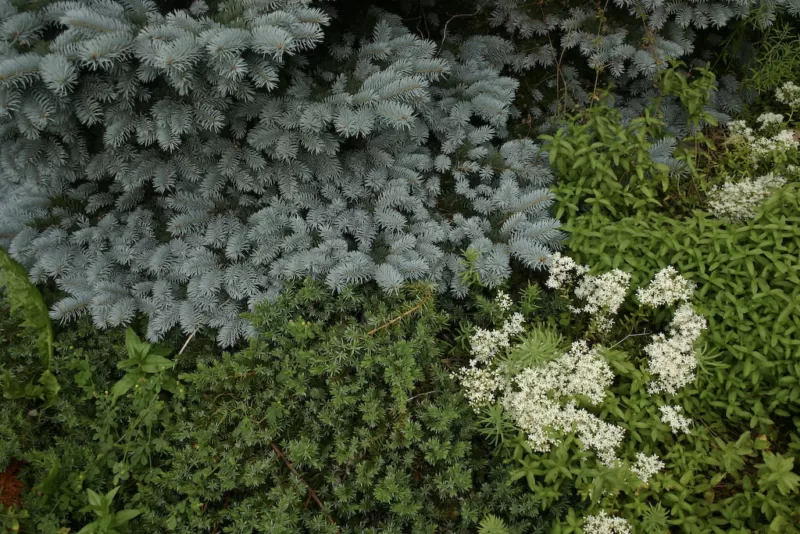 Like most colored spruces, the blue tint to the foliage is caused by a waxy coating on the needles which wears off over the year.
As a result, the blue color is its strongest with the emerging foliage in spring and fades as the winds and snow of winter erode and remove the glaucous coating.
However, from my experience, of all the blue spruces, Montgomery retains its rich blue coloration the longest and the most intensely, making it the perfect choice for a landscape color accent.
Because blue foliage makes such a shocking and definitive impact on composition, use it only as an accent and use it sparingly.
In other words, plan exactly where and how you will use your blue plants in the landscape because improperly placed blues can confuse or muddy a landscape and blues used in excess start to look gray and moody.
Montgomery spruce stands out particularly well against rich purples and maroons. Because it is a "cool" color, use it to soften harsh colors like cherry reds, hot pinks, and sunny yellows.
For Its Red Fall Color and Fruit – Showy Mountain Ash (Sorbus Decora, Zone 2)
Red is an easy color to find for the landscape, but can often be abused by those who don't understand the power and emotion stimulated by this color.
It is a traditional color of fall, and helps to bring vibrancy to the autumn scene, sort of like the last hurrah fireworks display at the end of the year before winter's drudgery sets in, a fitting finale to a grand summer.
And when you have both red foliage and fruit in fall, the effect is even more stunning!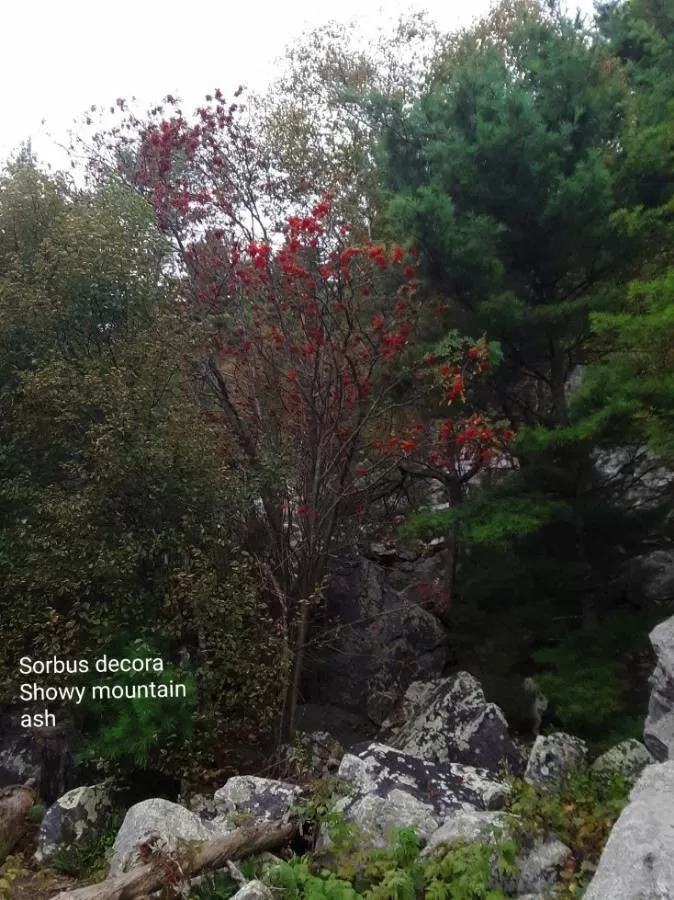 Some plants have it all, and showy mountain ash is one of those that deserve to be used more. It is a rounded tree, considerably smaller than the European or American mountain ashes, making it an ideal size for today's urban landscapes.
It has large showy flat-topped clusters of flowers in spring followed by bright red berries in summer through fall and early winter, but the "coup de grace" is the brilliant red and scarlet fall colors that are unmistakable.
This is also one of the few trees that will reliably produce red fall coloration even in alkaline soils.
Red is the poster color of fall, but there are tricks to using red in the fall landscape for maximum impact. Trees with fiery red foliage stand out but will play differently depending on how they are used.
Set against deep green evergreens, red radiates and could be seen from an airplane! When mixed with the gold, orange, and yellow fall colors of companion trees and shrubs, it blends into a hot creation that drives the senses into overdrive.
However, it will fade against blue or silver evergreens and lose its impact and can get lost against a large expanse of white such as the side of a house.
For Its Creamy Pink Bark – Heritage River Birch (Betula Nigra 'Heritage', Zone 4)
So many gardeners underestimate the merits of bark color in a landscape composition, which is quite unfortunate given its potential impact and endurance over the whole year.
When it comes to ornamental bark, the ubiquitous white-barked paper birches are so common that one often overlooks the subtle variations offered by other landscape choices such as the river birch.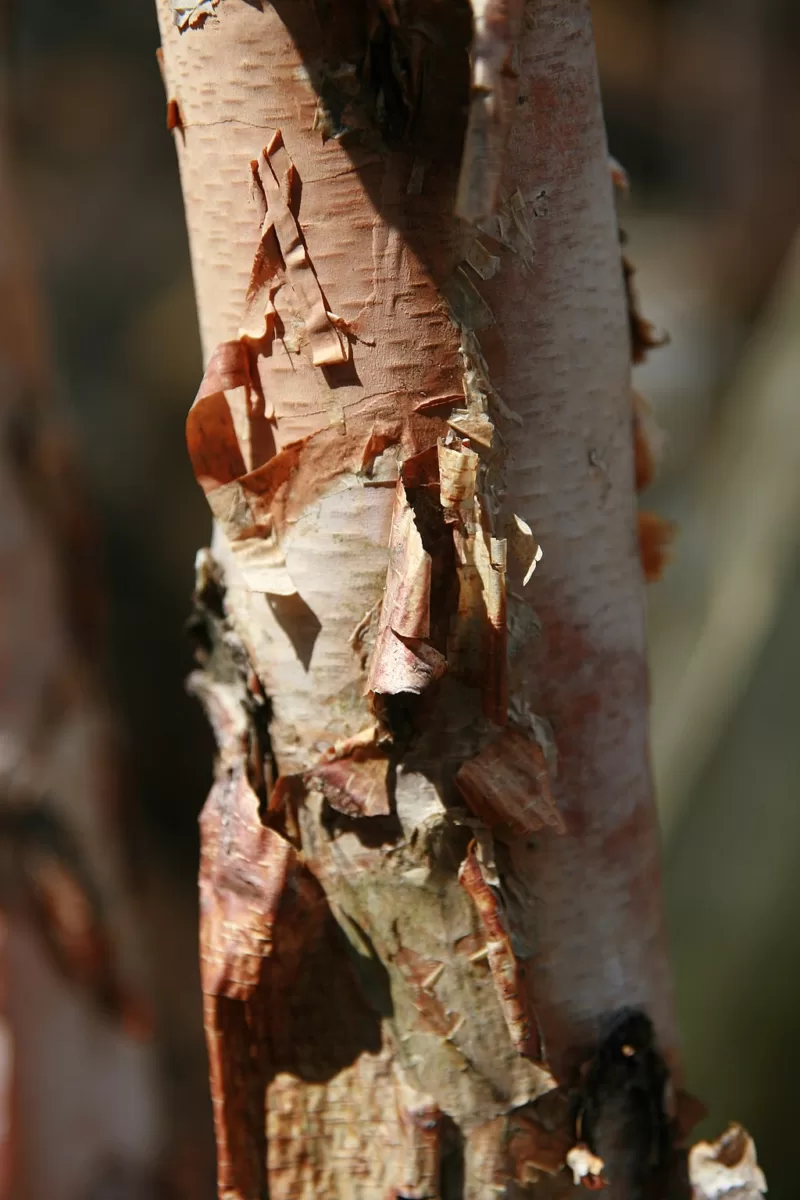 'Heritage' is a further refinement of the native river birch which offers a distinctive bark that starts reddish-pink and fades through cinnamon to a creamy tan-white with age, and which peels in thickly curled strips, further adding to the effect.
The entire bark performance starts at a much earlier age than the species. Like other birches, Heritage enjoys moist, organic to sandy soil conditions and will tolerate standing water.
However, unlike others, this birch is not well adapted to alkaline soils and may develop chlorosis, a condition which may ultimately kill the plant, so it should only be used in neutral to acidic soils.
Creamy cinnamon pink bark is a pleasure to use in the landscape. Like most brighter elements, it stands out particularly well in a darker part of the garden and is especially effective when used with an evergreen backdrop where it will shine like a beacon throughout the winter.
The cinnamon pink hues of Heritage birch's peeling bark will also add a dash of color to a snowy landscape better than the white bark birches.
For Its Orange Fruit – Afterglow Winterberry (Ilex verticillata 'Afterglow', Zone 4)
Orange is one of those colors that most gardeners pass by but which the most creative landscape designers can use to maximum effect.
The selection of landscape plants with primary orange features can be scarce, especially when it comes to larger landscape elements, but those who know where to look are rewarded with a color that can serve so many purposes!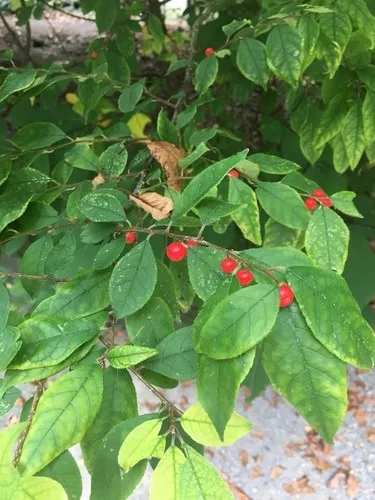 Winterberries are beautiful medium to tall shrubs that are a species of holly. As such, they have the same showy red berries in fall and into winter.
However, unlike the traditional Christmas hollies, winterberries are deciduous, and the resultant display once the leaves have fallen and only the densely packed berries remain on the branches is very showy indeed.
'Afterglow' is an unusual variety with rich scarlet-orange fruit, a remarkable color variation from the species and other cultivars.
Orange plants should be strategically placed in the landscape for the best effect. Afterglow winterberry's bright orange fruit persist from late summer through to about Christmas, when they begin to get a little weathered.
During this period, use them to add diversity to a red fall panorama, and to give variation to the more abundant red fruited options that tend to dominate a mixed composition.
They also add vibrancy to any shrub garden that might fade away to a mundane green towards the end of summer as other shrubs complete their flowering performances for the year since orange stands out well against these faded greens.
For Its Yellow Variegation – Golden Variegated Dogwood (Cornus alba 'Gouchaultii', Zone 3)
Variegated plants are finally finding their rightful place in the minds and landscapes of average homeowners who have finally come to realize that flowers aren't the only way to bring color interest into the yard.
Unlike flowers which come and go, variegation is present all season long from spring right through to fall, a steadfast element that holds while the rest of the landscape waxes and wanes across the seasons.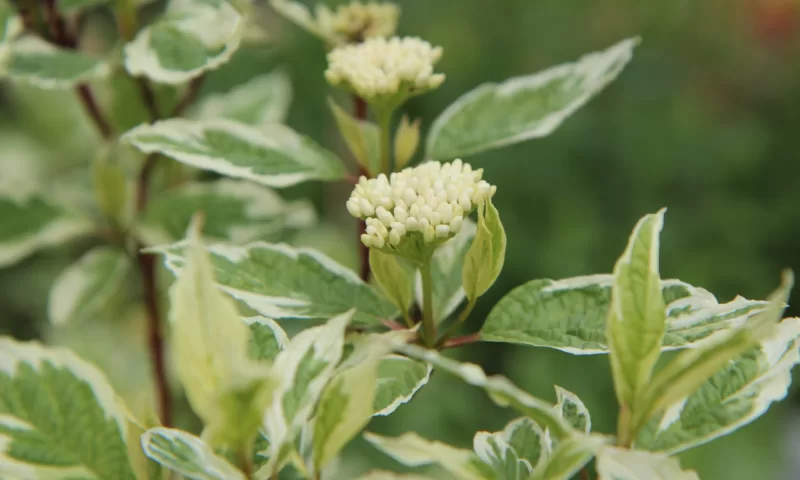 Dogwoods are tough plants, which makes them ideal for northern gardens. They tolerate all kinds of soil and moisture conditions and are not overly aggressive or invasive.
Golden variegated dogwood is a very showy plant with its light green leaves edged with a prominent gold band, not to mention the bright red stems which extend its landscape season right through the winter.
It is hardy and will probably grow virtually anywhere you plant it – sounds like a gardener's best friend to me!
Gardeners must realize that variegated trees and shrubs have a powerful impact on any landscape composition, immediately drawing attention. This makes them ideal accent plants, and that is primarily how they should be used.
Whether in a mixed garden or shrub border, as a foundation plant, or as solitary accents, they should always be used with restraint and as solos.
Be very mindful of the colors and textures in their immediate surroundings; they are best when they don't have strong competition from other showy plants, so use them to brighten up a dark nook of the garden or a dull corner of the yard.
Golden variegation is particularly emphatic and will combine well with dusty blues and silvers where white variegation might get lost.