Here are a few types of yard drainage solutions for clay yard drainage problems in flooding yards, including a French drain yard drainage system and installing a rock bed underneath the lawn for better water drainage.
These water drainage techniques will help eliminate flooding in clay soil yards.\
Why Yard Drainage Problems Occur?
Heavy rainstorms can send several inches of rainwater down, leaving a mess for many homeowners to clean up for themselves.
One of the hardest problems to figure out is why yard drainage problems occur. Usually, yard drainage problems cause yard floods, which can send water into basements and garages, while also damaging all the grass and gardens.
Most yard drainage problems occur are a result of mostly clay soils, as water will not soak into soil made of mostly clay.
If a yard contains mostly clay, water will simply puddle up until it is flooding the entire yard.
Many properties have been significantly damaged by this problem and many homeowners do not know any yard drainage solutions for their problems.
In the next two sections, two types of yard drainage solutions will be explained which can help solve yard drainage problems in clay soil yards.
French Drain Yard Drainage System
The first-yard drainage solution for flooding because of clay soil is to install a French yard drainage system.
In order to install a French yard drainage system, you need to first purchase the drain grate boxes and drain pipe from the home improvement supply store.
It's best to use a 6″-8″ pipe, with a drain grate box to fit the pipe. Get as many drain grate boxes and as much piping as needed in order to place a drain grate box in the low spots where rainwater collects and run the water to the proper place of drainage.
You may want to use plastic pipe cement to connect the drain gate box to the pipe; however, using plastic pipe cement is not required.
Once you have the drain grate boxes and piping, it's time to start digging trenches with a spade or maybe even larger equipment.
Begin by digging a hole in the low spot of the yard, where the water accumulates and the yard drainage problem begins.
Make sure the hole is deep enough to hold the drain box grate perfectly level with or 1/4″ below the ground, so the water is able to properly drain through the drain gate, into the drain box, and down the drainpipe.
Always make sure to slightly pitch the drainpipe downward towards the direction you want the water to flow, so the water will flow easier down the drain pipe.
The drain pipe should run into a ditch, pond, or any other type of area where the water can be spread and won't damage anything.
This yard drainage solution should always be used first, as the materials don't cost much and the water will be easily drained away from the property.
However, this may only help the situation if there is a specific low spot in the yard where water can accumulate.
If the yard drainage problems occur on fairly level yards, you may have to use the more expensive yard drainage solution out of both types of yard drainage solutions, which is to build rock beds underground for better yard water absorption, as explained in the next section.
Building Rock Beds Underground for Better Yard Water Absorption
The second-yard solution for flooding because of clay soil is to build a rock bed underground, underneath the areas where the yard drainage problem occurs.
By building a rock bed underneath the lawn, you are basically replacing a section of the ground with several inches of large gravel and fresh dirt, in order to have better yard water absorption.
This rocking bed will basically help drain the water underground faster, preventing any build-up of rainwater in the yard.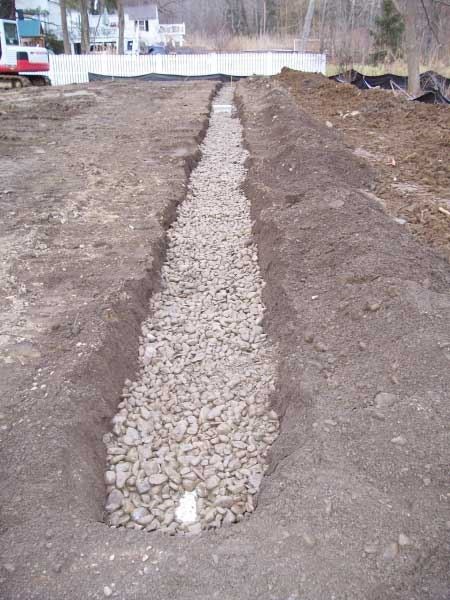 Basically, you will need to dig out the entire area where there are yard drainage problems and dig at least two feet down; however, make the hole deeper if you have a big yard drainage problem.
Then, fill the entire hole with large gravel until you are six inches from being ground level again.
Fill the remaining six inches of the hole with fresh topsoil, spread grass seed, then cover the grass seed and dirt with hay, in order to help prevent the seed and dirt from washing away.
For more information on types of yard drainage techniques, check out: DIY Steps to Draining Water Away from the House.