In the world of interior design, trends come and go, but there are some styles that never truly fade away. One such enduring and beloved design movement is Mid-Century Modern.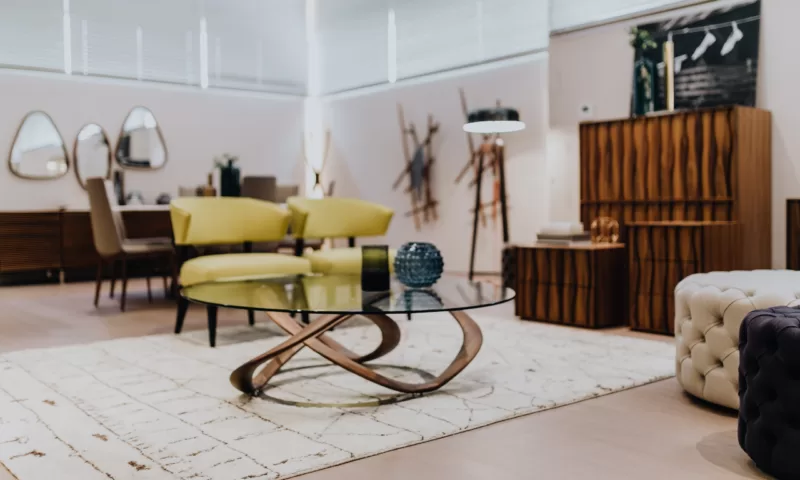 Characterized by its clean lines, organic shapes, and functional yet stylish aesthetics, Mid-Century Modern design has experienced a remarkable revival in recent years. Welcome premier Interiors company in Dubai, where imagination meets innovation to transform spaces into breathtaking works of art.
Whether you're a design enthusiast or simply looking to add a touch of timeless charm to your living spaces, incorporating Mid-Century Modern elements into your home can breathe new life into your surroundings. In this blog post, we'll explore the key features of this iconic style and provide practical tips on how to bring its essence into your own abode.
The Essence of Mid-Century Modern Design
The Mid-Century Modern movement emerged during the mid-20th century, roughly spanning from the 1930s to the 1960s. It was a response to the technological and cultural advancements of the time, and its design philosophy sought to merge functionality with a sense of elegance and simplicity.
This movement was heavily influenced by the Bauhaus school, Scandinavian design principles, and the newfound interest in space exploration. The result? An aesthetic that combines form and function in a truly captivating manner.
1. Clean Lines and Organic Shapes
One of the defining characteristics of Mid-Century Modern design is its emphasis on clean lines and organic shapes. Furniture and decor pieces from this era often feature sleek lines that are both visually pleasing and purposeful. Chairs with gently curved seats and tapered legs, as well as tables with minimalist geometric forms, are quintessential examples of this design principle.
2. Natural Materials
Mid-Century Modern design celebrates the beauty of natural materials. Wood, in particular, takes center stage. Teak, walnut, and oak are commonly used to craft furniture pieces that exude warmth and sophistication. Incorporating these materials into your home not only adds visual interest but also brings a touch of nature indoors.
3. Functionality and Versatility
Functionality is at the core of Mid-Century Modern design. The furniture of this era was designed with everyday living in mind, often featuring built-in storage solutions and multi-purpose features. Consider furniture that serves a dual purpose, such as a sofa that can also be converted into a bed, or a coffee table with hidden compartments.
4. Bold Colors and Patterns
While Mid-Century Modern design tends to favor a more muted color palette, it also isn't afraid to play with bold and vibrant colors. Mustard yellows, avocado greens, and earthy browns were popular choices during this era. In addition, geometric patterns and abstract prints can be used to add visual interest to your space without overwhelming the overall aesthetic.
---
Read Also:
---
Bringing Mid-Century Modern into Your Home
Now that we've explored the key elements that define Mid-Century Modern design, let's delve into some practical tips on how to incorporate this timeless style into your own home.
1. Select Key Furniture Pieces
Start by selecting key furniture pieces that embody the Mid-Century Modern aesthetic. Look for items with clean lines, tapered legs, and a blend of wood and upholstery. Iconic furniture pieces from this era include the Eames Lounge Chair, the Noguchi Coffee Table, and the Saarinen Tulip Table.
However, you don't have to break the bank to achieve this look—there are plenty of contemporary options inspired by the Mid-Century Modern style.
2. Embrace Minimalism
Mid-Century Modern design is all about simplicity. Embrace a minimalist approach by decluttering your space and focusing on a few statement pieces. Avoid overloading your rooms with decor and instead, opt for a curated selection of items that truly stand out.
3. Mix Old and New
While you can certainly go all-in with Mid-Century Modern decor, mixing elements from different eras can add a unique twist to your space. Blend Mid-Century Modern furniture with contemporary pieces for a harmonious and eclectic look.
4. Incorporate Retro Colors and Patterns
Integrate Mid-Century Modern colors and patterns into your decor. Consider adding accent pillows with bold geometric prints, or introduce a vintage-inspired rug that complements the overall aesthetic of your space.
5. Pay Attention to Lighting
Lighting plays a crucial role in any design scheme. Look for lighting fixtures that reflect the Mid-Century Modern style, such as pendant lamps with sleek metal shades or floor lamps with tripod bases. These fixtures not only illuminate your space but also serve as functional art pieces.
6. Don't Forget the Details
Sometimes, it's the small details that truly make a difference. Add Mid-Century Modern flair through accessories like ceramic vases, retro clocks, and sculptural figurines. These accents can effortlessly infuse your space with the spirit of the era.
7. Create a Cozy Reading Nook
A cozy reading nook is a perfect opportunity to embrace Mid-Century Modern design. Place a comfortable lounge chair with a sleek design in a well-lit corner, accompanied by a minimalist side table to hold your reading materials. Add a plush throw and a floor lamp to create a warm and inviting atmosphere.
Conclusion
The Mid-Century Modern design movement has proven its timeless appeal by making a resounding comeback in the world of interior design. With its clean lines, organic shapes, and functional yet stylish aesthetic, it's a style that effortlessly blends form and function.
By incorporating key elements of Mid-Century Modern design into your home, you can create spaces that are both visually captivating and invitingly comfortable. So why not take a step back in time and embark on a retro revival journey that's sure to leave a lasting impression?