Having your own indoor pool may sound like a dream and it could be your dream come true. Ponder on these cost breakdowns to help you decide if swimming in your home is in your near future.
Are you thinking about how nice it would be to have an indoor pool but wondering how much does it cost to install an indoor pool?
The costs vary and could range from $1,000 to $100,000. These numbers are based on a number of factors such as the type of pool or whether or not you need to build an addition to your home.
Choices and Price Ranges
There are four distinct choices for an indoor pool. Each of them comes with its own set of pros and cons.
1. Above Ground Pool added To a Garage, Basement, or Sun Room
The easiest and most economical way to install an indoor pool is to utilize your garage or basement. This limits the cost by using an existing structure rather than adding an addition to your home.
The cement floor is perfect for the weight of the water in an indoor pool. With the typical one wall joining the garage to your existing living quarters, you will only have to put a water barrier into one or maybe two walls.
The walls that are next to the house have to be treated this way, and this adds to the pool cost. It can cost up to $80 an hour to hire someone to help you with a pool installation.
These types of pools start at approximately $500 to $17,000. Of course, they are not deep and do not allow for diving but they make a nice addition to any home. They usually come with everything you need to filter and enjoy your pool.
Many do not like the idea of having to climb up to get into the pool but there are options to overcome this. For instance, you can build the floor up to meet the top of the pool.
This is achieved by building a floor shaped however you like. You can make it a gradual slope or steps that lead up to the main deck surface.
These are some options to make an above-ground pool seem like an in-ground pool. This entails an extra cost, which is usually not included with the pool.
A sunroom can make a very nice environment for a pool if the floor is reinforced or made of cement.
2. Set-in Fiberglass Pools
These are usually installed outside but with a little creativity, you can install one in your home as well. If you have a very large room, remove portions of the floor and lower the fiberglass pool into the prepared floor.
This will either take strenuous work on your part or you will have to hire someone to custom fit this pool into your existing structure. The only problem you encounter is fitting the large solid piece through an opening.
Unless it is a garage, there is no door big enough to slide this very heavy pool into place. It would be almost impossible since you cannot fit a crane in the basement and these weigh hundreds to thousands of pounds.
If you are in the process of building your home, this is a great time to think about installing one of these pools as you build. The pricing ranges from $3,900 to $10,299 on the low end and $15,000 to $30,000 on the high end. Check with the seller to see what other costs would be added such as installation, pumps, filters, covers, etc.
3. Vinyl Liner Pools
These are only feasible if you have a way to either use an existing wing of your house or build it into the plans of the house because it requires major changes to your home to add this on later.
Some reworking of the floor must be done like removing existing flooring, provided there are no important beams directly under the room(s) you intend to use.
You will need to pay labor for excavation and there will always be unpredictable things that could happen such as hitting water underground.
Outdoor in-ground vinyl liner pools cost between $10,000 to $25,000. Add an estimated 10 to 20 percent to that figure to compensate for the extra costs related to putting it indoors.
Type A: Concrete Pool with Liner
If you are planning to build a pool into your house plans and just wonder about the cost of the pool, an in-ground cement pool (16 x 30 feet) will run you about $20,000 to $22,000 for just the pool.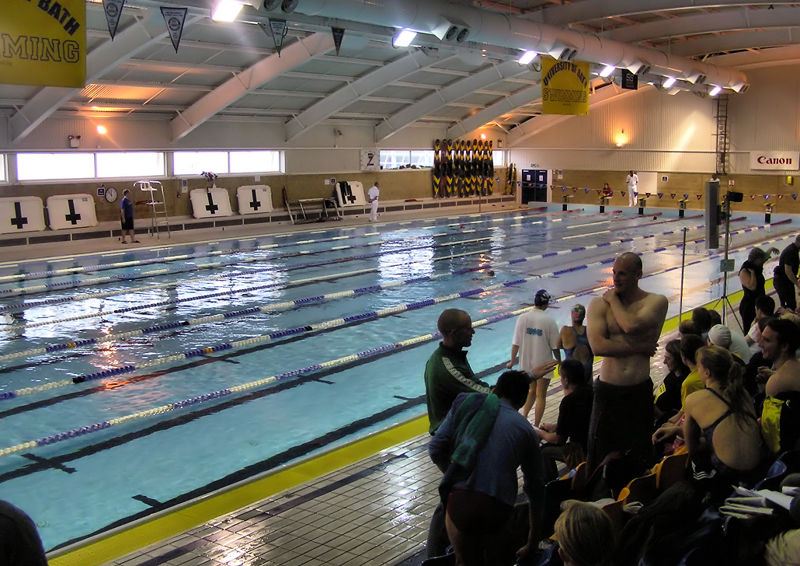 Type B: Steel Pool with Liner
The cost of a pool with this liner would run approximately $18,000 to $20,000 for a 16 x 30 feet pool. This figure does not include anything but the pool and liner.
Type C: Polymer Walls with Liner
A 16 x 30 feet pool with this liner will cost around $19,000 to $21,000 (not including the room in which it is placed).
Type D: Guinite Cement with Liner
These pools run between $37,000 to $40,000, which puts them at the top of the price ranges. (This figure includes only the pool and liner.)
4. Jacuzzi Style Lap Pools
These pools can be installed almost anywhere there is a solid enough floor and big enough window or door to get the pool inside. They are not so big that they need a huge structure, so you could build onto a deck to make it an indoor retreat.
These are smaller and a great option for a basement, garage, or sunroom.
An 8 x 15 x 40-inch-deep pool will run around $20,000; however, they can run as high as $100,000. These are very doable in a basement or garage.
Alternatives to Indoor Pools and Other Cost Considerations
Pool Enclosures
If you don't have a room already designated for your pool and need to have one built, you can get either a prefabricated unit that will cost around $35 to $70 a square foot, or you can go all out and have an addition added onto your home. This latter option, of course, could cost thousands of dollars.
Domes are a good option for those wanting something pre-fabricated. They allow you to get sunlight as you swim and run about $700 to $1300. These attach to your outdoor above-ground pools.
There are also full enclosure-type tents available for any outdoor pool. This solves many problems encountered with a true indoor pool because you won't have to vapor seal any interior walls or follow strict building codes.
If you get tired of the pool, you are not stuck with it because it is not a permanent part of your home. If you move, take the pool and dome with you, also. The cons to an outdoor enclosed pool are subject to variations of weather.
For example, heavy snow could be problematic or cause this type to wear down over time and need replacing. High winds could be a factor as well. Discuss these issues with your dealer to dismiss any worries you may have.
Pool Heaters
Solar
For the sake of saving money down the road, you can get a solar heater for your pool. They are not thought of as very good for heating a water heater but do very well for a pool. These will run you over $300.
Gas
These run from $99 to $2,000.
Electric
These run upwards of $2,000.
Vapor Sealing the Walls
This is very important and requires that one take down the drywall or sheetrock, install some type of paper seal to the walls, and then replace the sheetrock or drywall. This could cost quite a bit of money if you have two to three walls to refinish.
It is also necessary to repaint anything that needs it (consider using the proper paint to discourage mold). Resolving these issues will vary in costs.
Dehumidifying Systems
Expect to spend upwards of $2,000.
Security
You will need to cover your pool, and that could cost you $600 or more. You will need locks on all doors and alarms to prevent accidental drowning. These prices are variable.
Just Do It
While you can expect to spend from $1,000 to $100,000 on a complete system, it is easy to see that an indoor pool is not just a rich man's dream any longer. With all of the options available, anyone with a little imagination and expertise can put together a retreat for their family.
So, whether you go for the smaller all-in-one above-ground option or opt to install a theme-park style version in the basement, go ahead and indulge your dream.