Many northern gardeners that we speak to in the course of our work are both surprised and delighted to hear that with some effort, they could easily enjoy hummingbirds in their very own garden.
Planting flowers for hummingbirds and enhancing your property with a hummingbird feeder or two will add an interesting and unique dimension to your gardening and your experience as a homeowner.
For us, what began as a simple wedding shower gift of a hummingbird feeder has now become a passion and life's work of educating other people in the North and Midwest about how to attract these beautiful and fascinating creatures.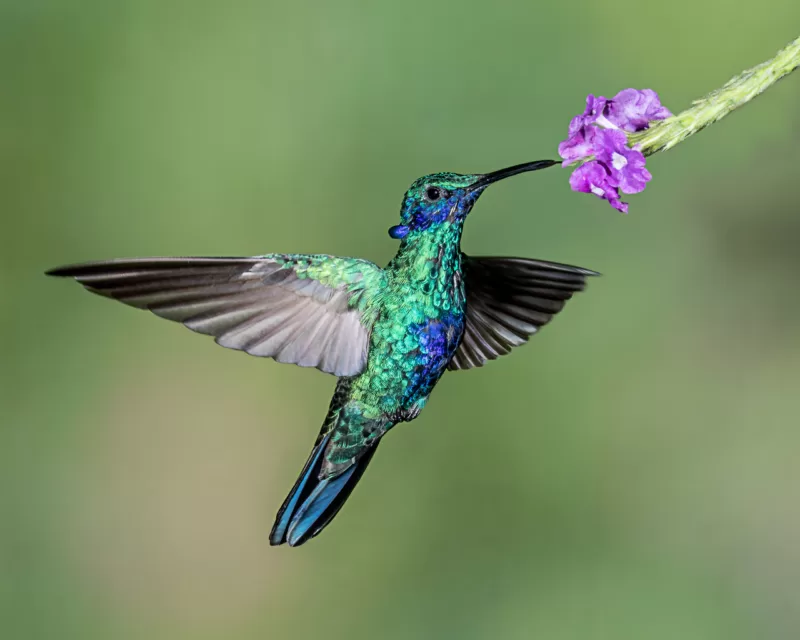 When we moved into our southern Wisconsin home eight years ago, our property was filled with too many volunteer trees and rows of hummingbird-unfriendly shrubbery, and there was not a blooming flower to be found anywhere.
Today, we hang 20 hummingbird feeders and have an ever-changing garden filled with well over 30 different types of flowering perennial and annual plants that hummingbirds love.
Because we live in an urban area (by nature, hummingbirds tend to seek out less populated areas), we don't see as many hummingbirds as we would like, but our journey has led us in many interesting and inspiring directions.
Getting Acquainted with Hummingbirds
Before we begin to explore some specific strategies for designing your property in a way that will attract hummingbirds, let's discuss what a hummingbird is and why this true wonder of the New World is so amazing.
The hummingbird is the world's smallest bird – you could actually put ten ruby-throated hummingbirds in a standard-size envelope and mail it with a first-class stamp (and the envelope could fly to its destination on its own power!) – and can only be found in North and South America.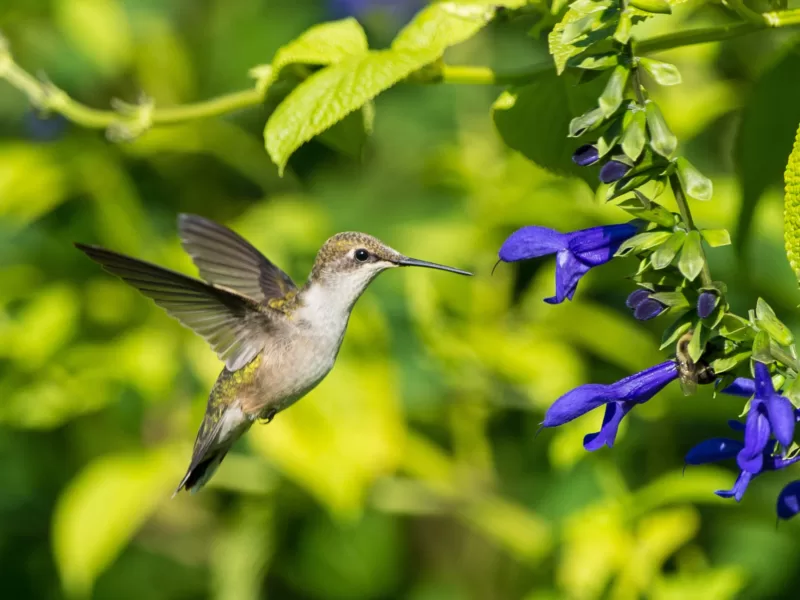 Approximately 340 species of hummingbirds exist, with most of those species living closest to the equator. Twenty-six species of hummingbirds have been documented in the U.S. and Canada with 14 species actually breeding and nesting within our borders and in Canada. Only one species of hummingbird, the ruby-throated, is common to and breeds east of the Great Plains.
Hummingbirds inhabit just about every kind of terrain from coast to coast in our land, ranging from arid deserts to frigid mountain peaks.
Many hummingbirds seen in the U.S., but in particular ruby-throated and rufous hummingbirds, migrate thousands of miles in the spring every year from Central America or Mexico to reach their nesting grounds in our northern homes. That long-distance migration is repeated in the fall of the year when the adult birds and their offspring fly south to their winter vacation spots in the tropics.
What is it that makes hummingbirds so uniquely different from other birds we see in our backyards? The bird's diminutive size, quickness of flight – they can fly up to 45 miles per hour – and fiercely competitive and territorial instincts clearly stand out.
But they also possess an amazing ability for incredible acrobatic flight and feats and the ability to hover, as if suspended in the midair. This "life in the fast lane" lifestyle that hummingbirds lead provides us with clear direction on how we can attract nature's flying jewels to our gardens and enjoy them all season long.
The Keys to Hummingbird Happiness
As with other wild birds, homeowners must provide three key elements to create good habitat for hummingbirds, in this specific order;
Shelter (cover);
Food;
Water
A property with no trees or shrubs (even if hummingbird feeders and hummingbird-attracting flowers are present) will not have much to offer to a hummingbird in the way of protection from predators and the elements and is sadly lacking (especially for the ruby-throated hummingbird, a hummingbird of forested areas).
Hummingbirds naturally seek out isolated areas with many trees for breeding and nesting, and a property that offers adequate "cover", or shelter (hummingbirds will not use birdhouses), will be more attractive to the hummingbird at any time during the season.
While trees and shrubs such as evergreens/pine trees, buckeyes, horsechestnuts, and spring-flowering shrubs are all wonderful for hummingbirds, any dense array of trees and shrubbery will work.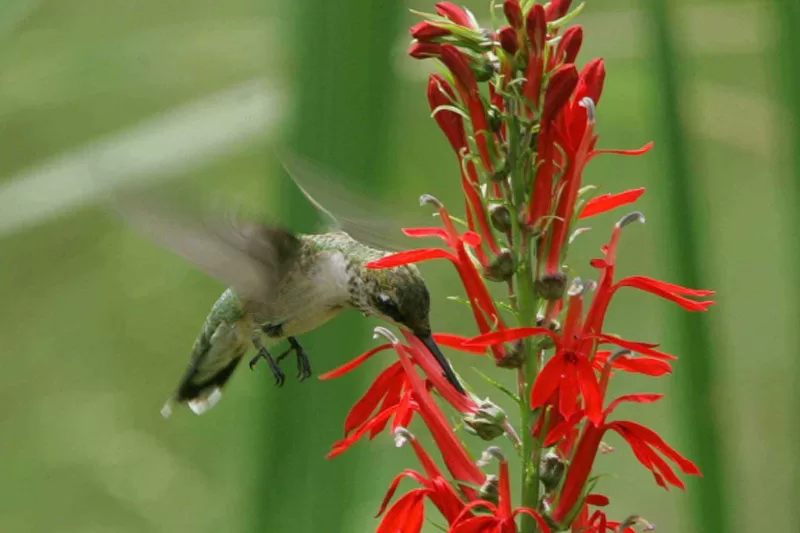 Full sun areas should also be created for a large and diverse hummingbird garden that offers at least one hummingbird-attracting flower all season long, as a large, continuing supply of food is essential for success. You'll find that by nature, hummingbird-attracting flowers and shrubs are low maintenance and require little, if any, work once they are established.
Hummingbirds have fantastic metabolisms and need to feed about every 15 minutes. Amazingly, they can easily visit up to 2,000 small flower blossoms a day. With their long bills and fringed tongues, they reach deep inside tubular blossoms to extract flower nectar, which is essentially sugar and water.
Hummingbirds also devour thousands of tiny flying insects such as gnats and mosquitoes in a day, and a yard filled with trees, shrubs, and flowers (less grass and more flowers and "cover" is always better!) will ensure that those insects are readily available.
---
---
Hummingbird Feeders
The use of hummingbird feeders is essential if you wish to attract hummingbirds and see them consistently all season. The work of maintaining feeders is well worth the time and trouble, as the feeders fill in the gaps when flowers or shrubs are not in bloom (such as in early spring and late fall). You will attract some hummingbirds with feeders or flowers alone, but you'll attract so many more birds with both!
We recommend that at least two feeders be hung on opposite sides of your property so that one aggressive, despot bird cannot dominate the feeder. Feeders need not be the expensive, decorative type, but should be functional and easy to clean.
The use of commercial nectar mixes is not necessary and is only an additional expense (red food coloring should not be used, as experts say it could be harmful to the birds – there is already red on the feeder to attract the birds).
One cup of white table sugar (do not use honey, artificial sweetener, or brown sugar in hummingbird feeders!) to four cups of hot water is the best way to go and duplicate the natural nectar that hummingbirds find in their favorite flowers.
We recommend changing the nectar twice a week, especially in the hot summer months when nectar can quickly spoil – cloudy nectar is spoiled nectar and could harm the birds.
You should also regularly clean your feeders with a mild bleach solution, as mold can easily grow. Most importantly (and this goes for flowers as well), place your hummingbird feeders where you can easily see and enjoy them from inside and outside your home!
Attracting Hummingbirds With Plants
Gardening for hummingbirds in the North can be very challenging, especially for those of you living in zones 1, 2, and 3. There are several perennials that hummingbirds love that are hardy in Zones 2 and 3, but homeowners living in Zone 5 will have the greatest selection of perennial plants.
Annual plants are wonderful for all zones and so many of the best plants for hummingbirds are "one-season wonders" for us in the North!
When selecting plants for your garden, think of red or orange-colored flowers (there are a few exceptions, of course). Good hummingbird plants typically have a multitude of tubular or trumpet-shaped flowers and bloom for long periods of time.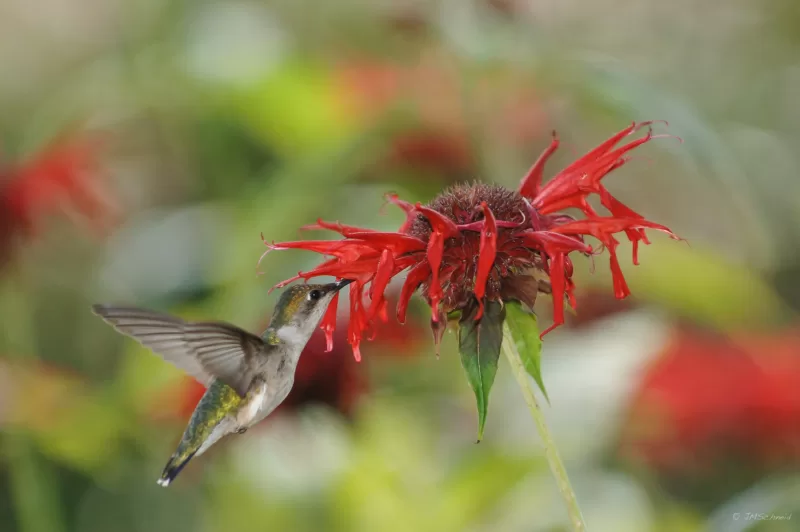 A bonus of creating a hummingbird garden is that many beautiful butterflies will also visit your property. A few examples of easy and wonderful plants for hummingbirds include:
Monarda didyma (Bee Balm): Perennial to zone 3. Summer blooming. Select red, mildew-resistant varieties. Best in full sun.
Lonicera sempervirens (Trumpet Honeysuckle): Perennial vine to zone 4. Late spring is blooming but will bloom sporadically throughout the season. Best in full sun but will tolerate light shade. An alternate for zone 3 is Scarlet Trumpet Honeysuckle.
Salvia guaranitica (Anise Sage): Annual in all northern zones. Blooms summer to frost. Has purple tubular flowers beloved by hummingbirds. Full sun. Will work in containers. You may need to order this plant through mail order, but well worth the trouble!
Lobelia cardinalis (Cardinal Flower): Perennial to zone 4. Blooms late summer to early fall with red flowers. Full sun to partial shade (prefers moist soil).
Fuchsia triphylla ('Gartenmeister Bonstedt' Fuchsia): Annual in all northern zones. Blooms late spring to frost with long tubular orange flowers (this variety is better for hummingbirds than the "fancy", hybrid fuchsias). Excellent for containers or window boxes.
Salvia coccinea (Scarlet or tropical Sage): Annual in all northern zones. Blooms summer to frost with brilliant red tubular flowers. Works in containers. Full sun. Very easy to grow from seed.
Cuphea 'David Verity' or 'Micropetala' (Mexican Cigar Plant): Annual in all northern zones. Blooms summer to frost with small tubular orange flowers. Works well in containers. Full sun.
Final Do's and Don'ts
It is important to never use pesticides, herbicides, or fungicides in your hummingbird garden, as those chemicals may harm the birds and will inevitably kill the many small insects that are such an important part of the hummingbird's diet. We highly recommend the implementation of organic gardening practices to keep garden pests and diseases under control.
Water is the final element that will attract more hummingbirds (and other birds) to your property. Hummingbirds require very shallow water, so most bird baths are too deep for their needs. You can create shallow water by adding flat rocks to a standard-size bird bath.
Even better is a small garden pond with a mister or a dripper or both. Installing and maintaining a garden pond will enhance your property for all wild birds and for you as the homeowner. The sound of trickling water will be soothing to you and beneficial to the birds.
Since we have created a hummingbird habitat in our yard with all of the key elements of cover, food, and water, we have felt the thrill of observing the dazzling beauty of these birds all season long. This is a pleasure that should be enjoyed by all northern gardeners!